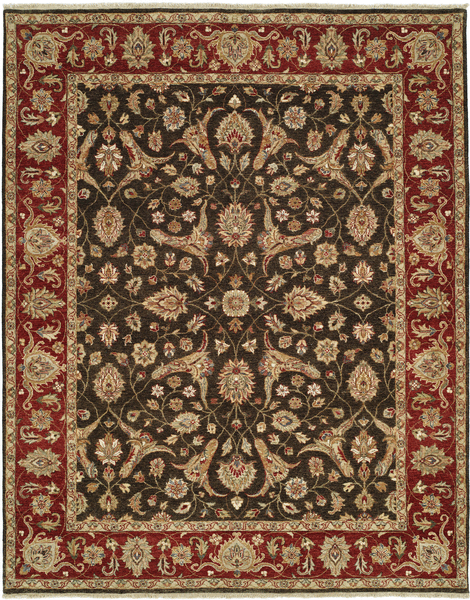 Shalom Brothers Royal Zeigler RZMSL06 Black Rug
From $288.00
Weave:

Hand Knotted

Item:

Rug

Brand:

Shalom Brothers

Country:

India

Collection:

Royal Zeigler

SKU:

RZMSL06

Color:

Black/Red

Border Color:

Red

Accent Colors:

Aloe, Dark Olive, Salmon, Slate Blue

Style:

Traditional

Design:

Zeigler

Fiber:

Ghazni Wool
Free Shipping in the contiguous United States!
--> Hover to view ETA + Sizes
Royal Zeigler Collection features classic designs from the late 1800s that were woven in the Sultanabad area of Iran. These designs were Persian patterns adapted for export to satisfy the WestÂ…over 100 years agoÂ…colored for the interiors of the 21 century. These rugs are hand knotted of superior hand spun Ghazni wool. A special wash finishes every Royal Zeigler rug adding uncompromised quality. These rugs are handmade in India. The designs feature classic Persian motifs, including stylized fork tendrils, palmettes and rosetttes.
The color descriptions and images shown have been supplied by the manufacturer. The actual pattern may vary as it is scaled to fit each rug's size and shape. All sizes and colors are approximate. We encourage all customers to view these products in person whenever possible. We cannot be held responsible for individual monitor settings. If you are unsure of the true colors, please contact us, we are here to help.
This item qualifies for
Free shipping to the 48 contiguous United States!
110% Price Match Guarantee

100% Secure Checkout
24/7 Customer Support