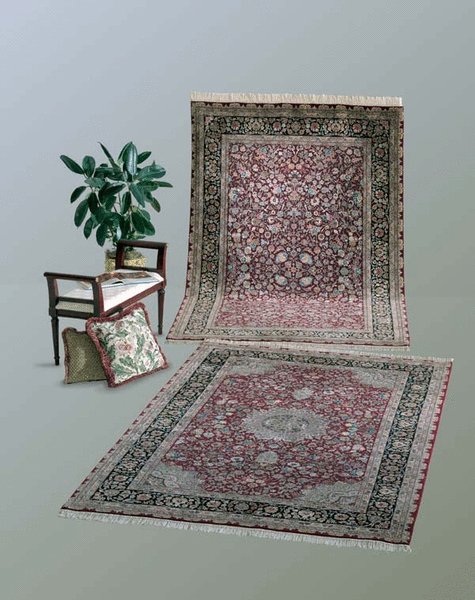 Shalom Brothers 60 Raj GS26-K1A Burgundy Rug
Weave:

Hand Knotted

Item:

Rug

Brand:

Shalom Brothers

Country:

China

Collection:

60 Raj

SKU:

GS26-K1A

Color:

Burgundy

Border Color:

Black

Styles:

Floral, Persian, Traditional

Product Usually Ships From:

NY

Fiber:

Wool with Silk Accents
Free Shipping in the contiguous United States!
The scatter pattern of 100% silk flowers and outlining which covers the field and border of these incredibly beautiful rugs, uses over 35 different colors. Constructed on a silk foundation, one can only imagine how much time and patience is needed to complete such beautiful works of art.
Custom sizes are available. Please call us at 800 562 9644 for details. Thank you
The color descriptions and images shown have been supplied by the manufacturer. The actual pattern may vary as it is scaled to fit each rug's size and shape. All sizes and colors are approximate. We encourage all customers to view these products in person whenever possible. We cannot be held responsible for individual monitor settings. If you are unsure of the true colors, please contact us, we are here to help.
This item qualifies for
Free shipping to the 48 contiguous United States!
110% Price Match Guarantee

100% Secure Checkout
24/7 Customer Support