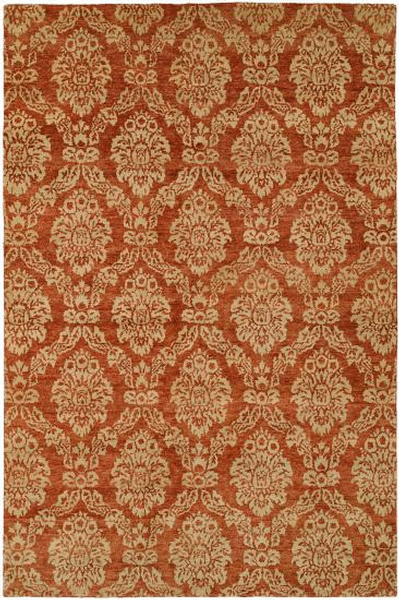 Kalaty Clearance Royal Manner Derbyshire RM723 Rust Rug
Save 45%
From $278.44
Weave:

Hand Knotted

Item:

Rug

Brand:

Kalaty Clearance

Country:

India

Collection:

Royal Manner Derbyshire

SKU:

RM723

Color:

Rust

Accent Color:

Parchment

Styles:

Damask, Transitional

Product Usually Ships From:

NY

Design:

Brocade

Fiber:

100% Wool
Free Shipping in the contiguous United States!
--> Hover to view ETA + Sizes
There is simply no place quite like England�s Derbyshire countryside, where centuries-old villages, cottages and grand homes punctuate a diverse landscape. In Derbyshire, one discovers a geographical tapestry of hills, dales, rivers and vast moorlands that for centuries have inspired writers, poets, artists, designers and world travelers.
Our Derbyshire rugs work harmoniously with all genres of stylish furnishings typifying the comfort, elegance and unique character of the region. Designed and produced in collaboration with Paul Burrell, these hand-knotted Indo-Tibetan weave rugs feature a variety of transitional patterns in fashionable colorations of 100% hand-spun wool.
All sizes are approximate.
The color descriptions and images shown have been supplied by the manufacturer. The actual pattern may vary as it is scaled to fit each rug's size and shape. All sizes and colors are approximate. We encourage all customers to view these products in person whenever possible. We cannot be held responsible for individual monitor settings. If you are unsure of the true colors, please contact us, we are here to help.
This item qualifies for
Free shipping to the 48 contiguous United States!
110% Price Match Guarantee

100% Secure Checkout
24/7 Customer Support